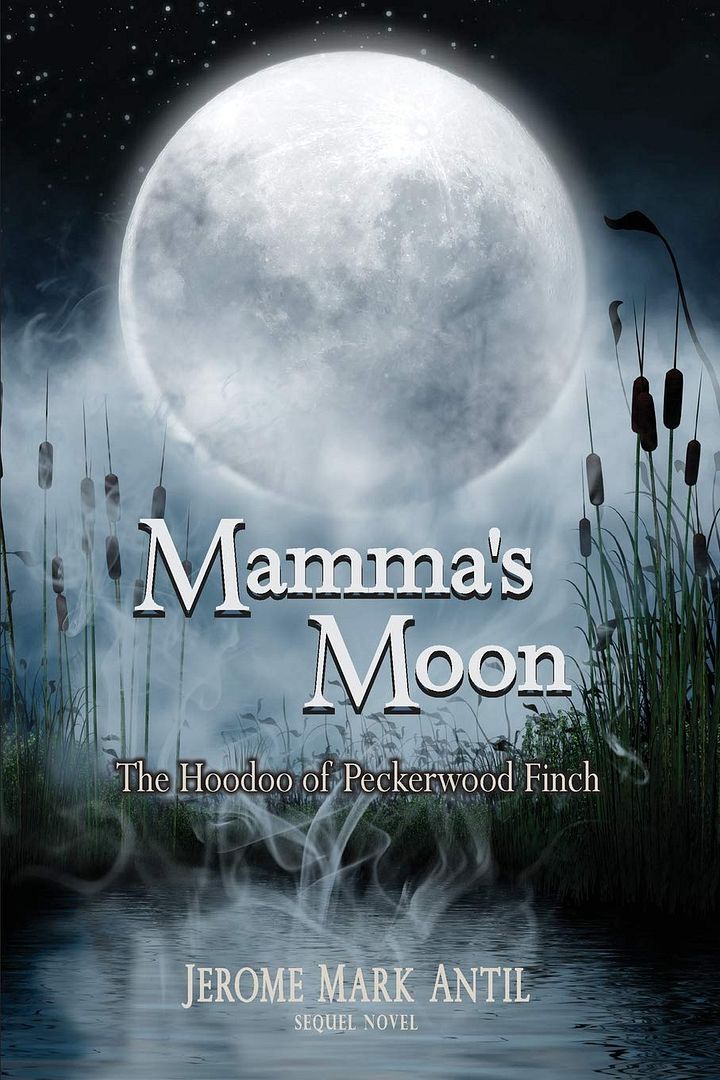 Date Published:
May 7, 2019
Publisher: Little York Books
This suspenseful sequel to "One More Last Dance" follows Peck Finch's search for his mother after leaving home at the age of nine, and the struggles of his friend Gabe, who is simultaneously facing a second-degree murder charge. Set within the rich and storied culture of Louisiana, this tale of self-discovery explores important questions about the meaning of love, friendship, family and more.
"Mamma's Moon" has received early praise for its layered storytelling with BlueInk Reviews calling Antil's newest work "a lovely story about the strong bonds of friendship that often supplant family ties."
Chapter 3 What a Night, My Brother
he seven fifty–five streetcar whined its hum behind them, rolling off into the night. They stepped through the gate of the Columns Hotel, brightly aglow with floodlights washing its historic columns and walls of porcelain white majesty.
"Isn't it magnificent?" Gabe said.
"Tres grand," Peck said.
"It looks big—I'm not sure how many rooms they have for hotel guests. Not many, I suppose—but I don't know. It was a private home in its day."
They climbed the steps, pausing on the landing surrounded by various size tables with linen cloths, some couples silhouetted by the moonless night chatting and holding their drinks, as in a Toulouse Lautrec print.
"My brother, would you prefer sitting here on the patio in the night air or inside?"
"We might talk better inside," Gabe said. "Night folks congregate in the bar or out here. Let's take our chances in the front room."
A server carrying a tray of drinks told them to find a table—she would be back to take their order. The smaller parlor room that Gabe preferred had a front window with dark-stained indoor shutters that dated back a century. Bay and framed, the window looked on St. Charles Avenue and its glass pane height rose from the floor to a twelve or fourteen–foot ceiling. Romantics like Gabe could imagine children of the 1800s who were supposed to be taking their naps sit­ting on the floor in the bay, watching the parade of horses, carriages, and streetcars going by. The table was for four, but he and Peck sat on both sides of a corner V with an avenue view, their backs to the next room with its round red leather settee and an ornate, wood-carved barroom behind that.
Peck reached out and rested his hand on Gabe's.
"Quel problème avez–vous, mon ami?" ("What trouble are you in, my friend?")
"My brother," Gabe said, "I know as sure as I'm born when you speak with the French, you have something special on your mind. I only made out the word problem—and I'm here for you. What problem do you have—let it out, my brother."
"Nah, nah…not me. What trouble you in, frien'?" Peck said.
Gabe reeled his torso, eyes wide, mouth open, caught off–guard. He pointed to the seat across from him. "Sit over there, son, so I can look into your eyes."
Peck got up, moved, and sat again.
"Just what do you know about so–called trouble you speak of, my brother? What exactly have you heard?"
"I've heard nothing, cher. I see plenty. You in trouble old frien'— tell Peck about it."
"I'll be damned. I swear. I spend a lifetime in the army learning to be aware of things around me, and never in all those years—not one time—have I seen the likes of anyone close to having your sense of observation and awareness. My brother."
The waitress came to the table about to interrupt. Gabe inter­rupted her first.
"Honey, bring us two shrimp and grits; one crawfish etoufee that we'll share. Bring a couple of spoons, if you will, and two small plates and start us with a couple of long necks and keep the beer coming. A streetcar is our driver tonight."
"Thank you, sir," the waitress said.
Gabe waited for her to step away, turned his head and looked Peck in the eye, while leaning in over the table.
"Okay, sure," he said. "I'll tell you my story. But first you tell me how you found out."
"Hogwash," Gabe said. "She's a total professional. She wouldn't say a word."
"Lily Cup at the house," Peck said.
"Not buying it. She's been to the house before. What gave you the idea there's trouble?"
"Her satchel by the door," Peck said. "If no trouble, satchel would be in her car. She took it into the house. Only could mean trouble for my frien'."
"The eyes of a fucking bald eagle," Gabe said.
He inhaled and exhaled, rubbing his chin and shaking his head as if he was letting it sink in. Peck's keen observation picked up the scent of trouble just as if the boy were on a pirogue in a bayou swamp tracking gator for bounty or turtles for soup. He leaned in once again and lowered his voice.
"I killed a lad today, I surely did. He couldn't have been twenty, maybe twenty–two. Killed him deader than a cold mackerel. Now old Gabe is in trouble with the law, and with the Almighty. That's the mess I'm in, son."
Peck reached across the table and held his hand again.
"Tell me. When? Where?" said Peck
"This morning, after you left for your meeting at Tulane. Thought I'd stretch my legs on Andrew Higgins Boulevard. I took a streetcar over to Lee Circle for a look at the World War II museum; thought maybe I'd sit with my coffee on the park bench and have a chat with the bronze of President Roosevelt. I stepped from the streetcar and was crossing St. Charles. There was no traffic, and I remember tak­ing my time looking up at the tree branches and wires still draped with strings of beaded necklaces from Mardi Gras hanging from them. I remember thinking it must be they get caught in trees when they're thrown from the parade floats. That's about when he came up—the kid."
"Behind you?" Peck asked.
"No—straight on from in front of me. I remember when I caught his eye he was smiling a big, cold smile. He pulled a knife from under his shirt—I'd say six, eight–inch blade. He walked toward me grinning and smiling, pointing and poking the knife at me and he kept repeating, "Wallet…give me your fucking wallet, old man… wallet…your fucking wallet…"
"I lifted my stick with both hands and turned sideways—took a stance. I poked the tip at his eye. I missed his eye but I hurt him. Then I reeled and slammed the back of his upper calf with my stick like a baseball bat and took him down, but he didn't drop the knife. He grabbed my shirttail in his hand and swiped up at me, cut my shirt—took a button off, and that's when I did it. God judge me, I could only see red. I turned the stick around and struck his head. I remember bashing again and again—hearing and feeling it hit his skull, and I don't remember anything after that, but that someone grabbed me and held me until I came to."
"I didn't look—but he was dead."
"That's for damn sure. A cop cuffed me, put my cane in his trunk and drove me to the station. He was a vet, a brother. He called Lily Cup for me while he drove. She was at the station waiting when we got there."
"Mais vous essayiez seulement de vous defender," Peck said. ("But you were only trying to defend yourself.")
"You saying self–defense? Lily Cup said the DA could build a case proving the boy was defending himself from me. It's a pickle. Tomorrow I have to hear the second-degree murder charges against me. A big dill pickle."
The waitress served them. Both men paddled their forks through the tastes of the town. Family secret ambrosias of red sauce warming the shrimp and grits made things all right.
"All right" in the Big Easy is when the tastes of the food to the palate can make you forget all else, at least for the moment.
"Peck, can I ask you something personal? You don't have to answer if it makes you uncomfortable."
"I was thinking about Millie—you know, her wanting to meet your mamma. What can you tell me about your youth, son? We never talk about it. How far back do you remember?"
Peck placed his fork in the bowl and sat back.
"If it's uncomfortable, we'll drop it," Gabe said.
"I grow'd at Bayou Chene—there and Petit Anse Bayou, 'tween Bayou Sorrel and Choctaw. Foster nanna is all I remember. There was gator man. Gator man belt-strapped me good if I dropped the bait shrimp buckets. I had to scoop shrimp and carry the buckets until his pirogue was full. He'd sell bait to tourists at the fishing docks."
"I couldn't swim is what I remember."
"Nah, nah…he'd dog collar me around my neck and chain me under porch back of his house. I worked, is all."
"My foster nanna would tell me gator man was lar'ning me and to see I mind him good. He'd tow me for gator bait. When the moon come out, I'd look up near all night pretending the moon was my mother looking down and I'd talk to her and promise her I was a good boy and no trouble, and I'd be quiet and behave if she ever come back. I talked to the moon."
"She heard you, son. Your mother heard every word, I'm certain of it."
"What do I tell Millie? Peck is scared she will run away when she knows I don't know my own mamma."
"Millie may still hug her baby doll, but she's a stronger woman than you think, son. Spoon some etoufee and let me think a minute. I need to think."
The lobby of the hotel and both party rooms to its left were empty. The front desk was an ornate wooden antique table—a man sitting behind, chin in hand, dozing off. Someone was at the piano in the bar among the laughter and an occasional cheer of a celebrated moment.
"Peck, you owe it to your Millie," Gabe said. "Tell her the truth."
"The problem is, this took place long ago in your life. It's impos­sible for you to remember the real truth—the whole story."
"I'm saying you have to go back to that Bayou Chene—or wher­ever—and find out for yourself. When you know the truth, that's when you can tell Millie the story. She's strong. She'd never be afraid of the truth coming from you. That woman loves you so much, but it's up to you to learn the truth—if not for her, for your children."
"I love her too, frien', just as you say—so much."
"It's settled. You'll go search it out, my brother."
"I'll go, I surely will—in the morning," Peck said.
"You're a strong man, son. Look them straight in the eye—don't let anybody frighten or intimidate you."
"I'm not scared no more."
"You have some weeks before night school starts," Gabe said. "Take any time you need to get the answers."
"Gabe, can I ax you something?"
"Why did that boy with a knife smile?"
"You say he kept smiling at you? Why did he smile at you like that?"
"Where you know the boy from?" Peck said. "A body don't smile at a stranger. He only smiles when he knows him. Where you know him from?"
"Remember the day I went to have keys made for the house?" Gabe said.
"I remember. You wanted to walk."
"I was in Walmart. At the key-making machine and next to it was another tall vending machine. The same kid was at that one next to me, working it." Gabe described how the kid pressured him for his credit card and then threatened to kill him when he refused to provide it.
"What'd you do?" Peck asked.
"I've never been so street-scared. I'm not agile or strong like I once was. I found the manager and told him. He said he'd walk me to the streetcar. Outside he asked me if I could recognize the kid and I told him yes, if I saw him again. We stopped for a light and when I turned there he was—the kid waving a knife. He was leaning on a bicycle looking me in the eye, waving his knife. 'That's him,' I told the manager. 'That's him.' The manager told me to stay put and he turned and ran toward the guy, yelling and waving his arms until the kid pedaled away in a scoot. The manager walked me to the streetcar and waited until I boarded."
"So that's why you started walking with a cane, cher?"
"Learned self-defense with one in the army."
"You're innocent," Peck said. "Tell Lily Cup the story, cher. Tell her to find the manager and get the videos. They'll have one."
"I'll be damned," Gabe said.
"All the proof you need, frien'," Peck said. Video—it's how we catched that robber man in Kentucky on the motorcycle, remember?"
"How can I forget that night?"
"Innocent, my frien'. Tell the story to Lily Cup."
"When are you going back to learn the truth, my brother?"
"To see my foster nanna?"
"To learn the truth," Gabe said.
"Tomorrow, I promise. I clean offices tonight. I'll head out tomorrow."
"Let's get some pecan pie and call it an evening," Gabe said. "What a night, my brother. A guardian angel brought you to me."
Gabe caught the waitress's eye and indicated dessert and coffee for both. He looked at the ceiling and into the heavens.
"Thank you, Butterfly—thank you, my darling."
"Butterfly, my brother. Butterfly was my girlfriend, my lover, my wife, and the mother of my son…longer than I can ever remember. Now she's my guardian angel—my Butterfly."

About the Author
JEROME MARK ANTIL writes in several genres. He has been called a "greatest generation's Mark Twain," a "write what you know Ernest Hemingway," and "a sensitive Henry Wadsworth Longfellow." It's been said his work reads like a Norman Rockwell painting. Among his writing accomplishments, several titles in his The Pompey Hollow Book Club historical fiction series about growing up in the shadows of WWII have been honored. An 'Authors and Writers' Book of the Year Award and 'Writer of the Year' at Syracuse University for The Pompey Hollow Book Club novel; Hemingway, Three Angels, and Me, won SILVER in the UK as second-best novel.